Referral for Veterinary Professionals
If you would like to refer a case to us, or just request some advice about a case you are treating, please submit the relevant referral form, detailing the case, any appropriate history and current medications. Please note that advice cases will be treated as advice only unless they result in an actual referral appointment being requested.
All referrals must be complete and include a FULL clinical history. Referrals with entries such as 'see history' will not be accepted and will be returned to you for completion before processing can begin.
History can be sent via the online form or emailed directly to admin@eye-vet.co.uk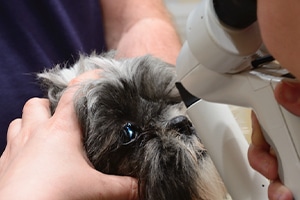 You can use our online referral form here or alternatively download a PDF referral form for email or fax. For emergency cases please call us first.
Case advice can be requested online and our ophthalmologists can call or email you to discuss your case.