Here at Eye Vet we like to work closely with our referring vets, making it convenient to refer, listening to any feedback or suggestions you may have, and supporting you in yours and your practice team's CPD.
Our extensive range of ophthalmology equipment is some of the best available, and together with our closely-knit team of experienced ophthalmologists, anaesthetists, nurses and client care support, you can rest assured that the pets you refer to us are in the best of hands.
You can refer online via our simple referral form, or if you prefer to download the form you can email or fax it to us. For emergency cases, you can call us to discuss the case first, to ensure there is no delay in the pet receiving treatment. Any requests for case can also be sent to us online and you can choose to be called back or receive an advice email.
Click the button below to find out more about the referral process and how it all works.
If you have an emergency case, please call us before using the online form
Case advice can be requested online and our ophthalmologists can call or email you to discuss your case.
By clicking the button below, you can see all of our prices and the payment options available.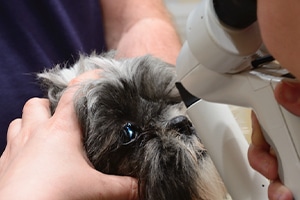 You can use our online referral form here or alternatively download a PDF referral form for email or fax.
Some of our most frequently provided diagnostic and treatment services can be found here.
We welcome you to attend our online CPD sessions and as restrictions ease, hope to speak to you in person.