Here you can get guidance on costs and find out how to make payments
Payment is required at the time of your consultation, or at the time your pet is discharged after a procedure or surgery. We request that all payments are made in full and your account cleared. We accept cash and all major credit/debit cards. We regret that we do not accept cheques.
If your pet is insured, please bring a signed claim form with you, with yours and your pets details completed. We will fill in the rest for you and send it to your insurance company.
Written estimates for further procedures or surgeries will be given at the time of your consultation. These are an estimate only, and will vary between patients due to the nature of the case, the anaesthetic time needed and the medications/consumables required based on patient size. Full written estimates will be given at the time of the consultation and discussed with you. Feel free at any point to discuss this with us should you have any concerns.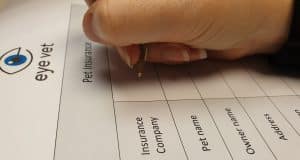 Please bring your completed insurance form to your pet's appointment. Find out more about payment and insurance claims by clicking the button below.
Your usual vet can refer your pet to us for treatment, they can do this via our website or can call us for urgent referrals.